According to the Companies Act, every company based in Singapore is required to appoint a Company Secretary.
A Company Secretary's primary role is to assist in the administration of a company. They are responsible for ensuring that all company policies and procedures are being followed. The secretary also helps with the work of corporate governance, such as preparing agendas and minutes for meetings, recording resolutions and other decisions made by shareholders and directors.
The Company Secretary ensures that the business interest of the company, as well as the shareholders, is always protected. Therefore, the secretary needs to regularly communicate with the shareholders and timely disseminate financial statements which allow shareholders to take part in the decision-making at the company's Annual General Meeting (AGM).
Read more about the Roles of Company Secretary in Singapore.
Let's discuss in detail the services provided by a Company Secretary.
What Are The Routine Services Provided By A Company Secretary?
Singapore's Companies law vests following administrative and statutory duties with the Company Secretary.
Maintain Company's Statutory Registers
The Company Secretary needs to safe keep and updates the company's statutory registers as per the regulatory requirements by Accounting and Corporate Regulatory Authority (ACRA). This includes updating the company's annual accounts on time, a notice of removal or resignation of auditors, maintaining the necessary registers of important shareholders, members, and charges, etc.
Safeguard Company Common Seal
It is an official seal that the company uses to endorse documents like share certificates, contracts, and deeds. Therefore, the Company Secretary must ensure safe custody of the company common seal and use it on documents when required.
Sending Reminders For Statutory Compliance
The Company Secretary sends regular reminders on filing deadlines and compliance matters. This allows directors to carry out their statutory duties in a timely manner.
Prepare Notices, Agendas, and Minutes of AGM
The Company Secretary needs to arrange meetings of the directors and shareholders. Furthermore, they have to send the notices of the meetings to substantial members, prepare minutes of AGM and maintain appropriate books and records on behalf of the corporation.
Advisory on Corporate Compliance Matters
The Company Secretary needs to ensure the company is compliant with relevant company laws. In addition, they are responsible for reviewing developments in corporate governance, advising and assisting the directors with respect to their duties, and promoting adherence to sound practices of good governance.
Preparation of Exempt Certificates
The Company Secretary is responsible for the preparation of exempt certificates. This enables tax-free purchases that would generally be subject to sales tax.
Find out how to choose a company secretary in Singapore.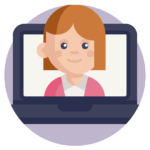 HeySara is a corporate compliance service provider. If you are looking for a company secretary that is able to perform the above-mentioned routine secretarial services, you have come to the right place. Get in touch now.