Accounting and Corporate Regulatory Authority (ACRA)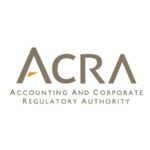 Accounting and Corporate Regulatory Authority (ACRA) is the national regulator of business entities, public accountants, and corporate service providers in Singapore.
It is a statutory board under the Ministry of Finance (MOF) of the Singapore Government.
The mission of ACRA is to provide a trusted and vibrant business environment in Singapore. ACRA's role is to achieve synergies between the monitoring of corporate compliance with disclosure requirements and regulation of public accountants performing a statutory audit.
ACRA website: https://www.acra.gov.sg/
History of ACRA
ACRA was formed as a statutory board on 1 April 2004, following the merger of the then Registry of Companies and Businesses (RCB), and the Public Accountants' Board (PAB).
Roles of ACRA
As the national business registry of Singapore, one of ACRA's functions is to establish and administer a repository of documents and information relating to business entities and public accountants, and to provide access to the public to such documents and information.
The information available for public access includes registration date, nature of the business activity, registered office address, and financial statements of business entities, as well as personal data about owners, shareholders, directors, and officers of the business.
The ACRA Act
ACRA is exempted from the PDPA. The ACRA Act provides for ACRA to disclose personal data in discharging its functions.
Nevertheless, ACRA adheres to the Public Sector (Governance) Act and Government Instruction Manuals with respect to the way data is managed. This includes putting in place processes and procedures to prevent disclosure of data under circumstances other than those allowed under the ACRA Act.